2 years ago, Getafe had just won promotion back to La Liga, after being relegated the year before. At the beginning of this season they appointed Pepe Bordalas as manager and he has led them to this incredible feat of possible European football. The last time Getafe were in European football was in 2010 where they finished 3rd in their Europa League group. As my first article focused on 2 young teams playing well, this is the complete opposite, as Getafe are an old team being able to compete with the likes of Sevilla and Valencia for the 4th place.
Getafe have never been seen as a team being able to compete in Europe. In their previous 5 seasons they have finished 8th, 3rd in La Liga 123, 19th, 14th and 14th again. So this season it has been highly successful for a team that is in the shadow of Real and Atletico Madrid. The history of Getafe has not been very successful as they have only won 1 trophy in their history which was the 1998-99 Segunda Division b-Group 1, and they have also finished runners-up in the Copa Del Rey in 2 consecutive years in 2006-07 and 2007-08, this puts into perspective the achievement of the team this season.
The average age of this Getafe team is 28, the spearhead of their attack is Jaime Mata, 30, and Jorge Molina, 37, with the youngest player on their team being 19 in Hugo Duro. The reason Getafe follow this model is due to their lack of transfer budget, they mainly rely on free transfers and loans, as well as players who are not required at their previous clubs anymore. This can be seen in the summer of 2018, where they brought in Jaime Mata on a free from Real Valladolid, as well as the transfer in of midfielder Nemanja Maksimovic from Valencia for £4.5million and goalkeeper David Soria from Sevilla for £2.70million. These are just a small pool of players who are key to the Getafe way of a conventional 4-4-2.
The 4-4-2 Getafe play consists of solid defence as well as a fluid attack. When attacking one of the full-backs will join the attack to create a 3-4-3, meaning if the opposing team were to counter attack they could deal with it easily. But, Getafe rely on the mistakes of their opponents as well as deep runs from their wingers and 2 strikers. This can be seen with their 1.3 goals scored in La Liga this season. This also has showed the effectiveness of the 2 strikers as Jaime Mata has scored 14 goals and Jorge Molina scoring 13. The team also rely heavily on counter attacking from their defence, as they have also averaged 40% possession this season, which backs the idea of them relying on mistakes to score. However, to counter their lack of creativity, Getafe are defensively solid, which is represented in their 0.9 goals conceded. When in defence, one of the wingers will normally drop back in with the defence to form a back 5. The then reduced 3 cut passing lanes as well as closing down the opposition or space that can be exploited. Then Getafe are able to initiate a press on the opposition, with a the use of the 2 strikers and 2 midfielders, leaving one spare to sweep up if necessary or initiate another press. Their pressing happens at a high intensity and can the cause the opponent to make a mistake where they can then attack.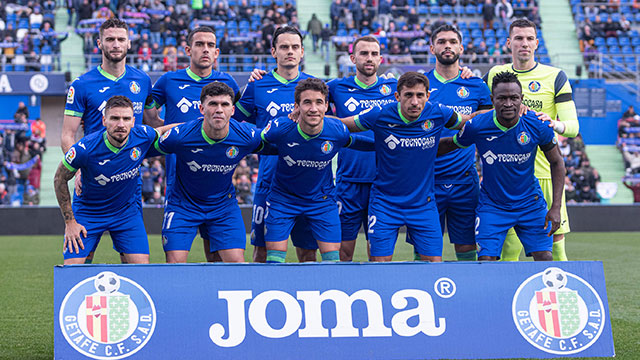 I cannot see Getafe being able to compete in the Champions League or Europa League, as their style of play has not really been effective against the larger teams in La Liga with only gaining 1 point in 6 games against the top 3. As they are likely to finish 4th in La Liga then they will struggle to cope with being in a group with teams as strong as the top 3 or slightly worse, but with that being said, their style of play will be unknown to the continent so they may be able to conjure up an upset in either competition. But then there is the extra games during the week which can increase fatigue. This can be compared to Burnley in the Premier League. Due to them finishing 7th in the Premier League last year, they ended up going through the Europa League qualfiers. They managed to get to the 3rd Qualifiying round meaning they were 2 games away from the group stage after beating Aberdeen and Istanbul Basaksehir, but they lost to Olympiakos, this has effected their season this year as the players were initially fatigued at the start of the season and they have been mid-table this season. But I believed Getafe's aim next season will be to aim to stay in the league as Pepe Bordalas may leave, and their style of play will be easily dealt with as it is not new anymore.
Links used:
https://www.transfermarkt.co.uk/fc-getafe/startseite/verein/3709/saison_id/2018
https://www.transfermarkt.co.uk/pepe-bordalas/profil/trainer/6440
Stats from One Football