On Saturday the 4th of May, I went to watch Borussia Monchengladbach vs TSG Hoffenheim in a race for the Uefa Champions League (UCL) in the Bundesliga, so here is my experience.
But first some context. Going into this game Monchengladbach were 5th and 3 points off 4th, which would qualify them for the UCL. Their season started off well, with them being unbeaten at home in 9 games until they played Hertha Berlin on the 9th of February in a 3-0 loss, which seemed to signal the derailment of their season. They began to fall down the table with only picking up 9 points in their next 10 games. This resulted in them being over taken by RB Leipzig and Eintracht Frankfurt, which placed their chances of the UCL and even Europe at stake, so this game was crucial.
The 2 hour drive normally consists of all things football, with discussion and listening of football podcasts. But when we finally arrive at the car park by the stadium it normally consists of a 15 minute walk to Borussia Park, the stadium is relatively new with it being built in 2004 in preparation for the 2006 World Cup but was never used. Once at the stadium, which is located next to the training ground, we would go for a walk around and have a look at the newly built club shop and building located by the training ground.
Once into the ground, while waiting for kick-off, normally consists of food such as a bratwurst or another traditional German food you could think of. Then we go and take our seats. One of the best parts about football, is when you go through the entrance to the stand and you get hit with the noise of the fans on either end signing, and considering we seat close to the away end it makes the atmosphere even better. Just before kick off the loud speakers in the stadium blare out Die Elf von Niederrhein, which translates as the Eleven From the Lower Rhein. This then consists of 4 minutes of the fans all around us singing their hearts out, while swinging their scarfs above their head. I wish I could take part but my German is not good enough to be able to sing along, so its best to stick to You'll Never Walk Alone. I noticed this old couple sitting next to me, and all I could think about was what they have seen in their time following this sleeping giant of a team. From them gaining promotion back to the Bundesliga in 2008, to their UEFA Cups in 1975 and 1979, as well as the heartache of relegation and the loss in the UEFA Cup final in 1973 to Liverpool, which prompted the beginning of a long friendship between the teams, with a set of fans from both teams going to games of the other team in the spring, but these old people had also witnessed great players as well, such as Lothar Matthaus, Berti Vogts, Jump Heynckes and then more modern players such as Marco Reus, which makes me also think back to an elderly man I saw at the Camp Nou 2 years ago, where he has seen a team win everything.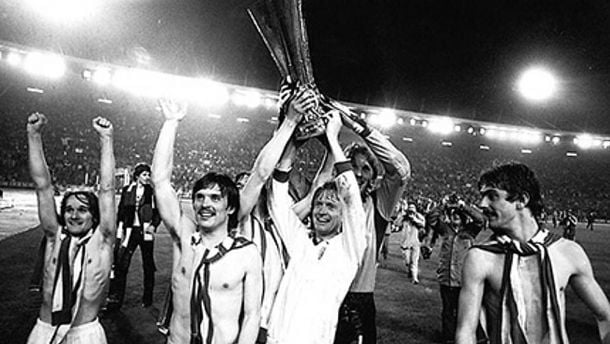 From what I saw the Monchengladbach formation was not what I was normally use to seeing. They normally play a 4-3-3 with the middle in the midfield 3, Tobais Strobl, dropping back to form a back 5 when in possesion. But this time due to Hoffenheim under Julian Nagelsmann play a very attacking 3-4-2-1, they swapped to a 3-1-4-2, with the wing backs in Oscar Wendt and Patrick Hermann pushing forward to then form a 3-1-2-4 when in attack, with very little pressing by the forwards, with only little effort being done by Thorgan Hazard and Alassane Plea. Hoffenheim were by far the better team in the first half proved this with a header from Pavel Kaderabek from a corner, which really summed up the first half for Monchengladbach, as they did not look comfortable in this formation. Half-time was more uneventful for me as it results in a lot of time waiting in a huddle to try and use the toilet, due to the Germans not knowing how to queue.
The second half began with a few changes by Dieter Hecking, who switched back to the normal 4-3-3, as they subbed out one of the 3 centre backs and the Right Wing back Patrick Hermann, for Louis Beyer, who played Right Back, and Ibrahima Traore, who would play right wing. Anger at every mistake made by Monchengladbach was seen around my seat, with a plethora of German swear words and middle fingers pointed at the players, which this afternoon was a very common event. The players on both teams also began to get angry with yellow cards being handed out quite regularly as the urgency from Monchengladbach increased. However, at the 72 minute Matthias Ginter, who is one of the best players on the team final scored, when the ball was crossed back in after a set piece, he placed it into the bottom right corner, in front of the mighty Nord Kurve. But this didn't last long, as 7 minutes later, Hoffenheim scored once again, with a finely taken volley by Nadiem Amiri, argubly one of the best goals of the match day due to the skill required to pull it off. The tension raised even more as the fans and players saw their Champions League dreams fall apart right infront of them. But Dieter Hecking, made a attacking change bringing on Josip Drmic, who has only played 39 minutes this season. With his first touch of the game he, curls the ball into the same corner Ginter scored in earlier, to send Borussia Park into madness. Nothing else really happened in the game after, apart from the substitution of Reiss Nelson, who made an appearance late on, I was hoping he would make an impact in his small cameo but sadly did not. The game ended with a man playing the bagpipes outside the Nord Kurve which could be heard throughout the route to the stadium, which is very unusual.
Overall, I didn't think Monchengladbach deserved to win the game, as eventhough I regularly see them, Hoffenheim were the better team, and clearly wanted the prize of Europe more, this along with the underperforming of Alassane Plea and Thorgan Hazard, who received a lot of boos when his name was announced due to rumours of a move to Borussia Dortmund. But, due to other results in the match day, mainly Bayer Leverkusen's demolition of a rested Eintract Frankfurt team, 6-1, it has kept Monchengladbach in the race, with only 2 games left against Nurenburg and Dortmund. With the game against Dortmund being crucial for both teams. Sadly, I don't see Monchengladbach making another appearance in the Champions League, which would of been their 1st since 2012, but most probably will make an apperance in the Europa League, their 1st since 2014.
Next article: Premier League Review, and my Team of the Season and individual player awards.