On the 13th of July 2014, Argentinian football had reached its peak since 1990 where they finished runners-up in the World Cup. It was expected that this team lead by arguably the greatest player ever Lionel Messi should of won the game against a decent Germany team, however a 113th minute Mario Goetze goal signalled the decline of mens football in Argentina and the likelihood that Lionel Messi will never top the Olympic Gold he won in 2008. Ever since that date the Argentinian team has been in decline. In the 2015 Copa America they lost in the final, 2016 they lost in the final again, in the 2018 World Cup they lost in the round of 16 to France after just scraping out of their group due to a late winner against Nigeria. There are many factors that could shine a light on this decline of a former giant. These include the heavy reliance on Lionel Messi, the decline in ability of the golden u20 generations of 2003-07 and their inability to hire a decent coach to guide the team.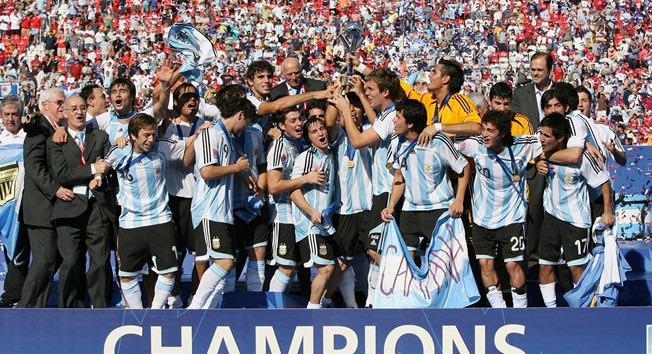 What can you do when you have one of the best players ever on your team except rely on him. This is the key difference between Lionel Messi and Cristiano Ronaldo, the fact that Messi works well within a team, while Ronaldo is more focused on himself. This can be seen with how great Messi is when he is playing for Barcelona, compared to how he plays with Argentina. With Barcelona he does not have to carry the burden and if necessary his teammates can help him out, while with Argentina it has resulted in him pulling them along when needed, which is shown with his 68 goals for country making him the top goalscorer. The 2016 Copa America is an example of him carrying Argentina as he scored 5 of Argentina's goals while also providing 4 assists for them on their way to 2nd place, in his first tournament back after retiring in 2015 after the previous final lose. Then in the 2018 World Cup, Messi even struggled as he only scored 1 goal, all be it in the crucial last game against Nigeria, while also only regestring 2 assists. Here it shows the heavy reliance on Messi as when he has his off days so do the team themselves.
The next area that has resulted in the decline of Argentina is their inability to produce anymore quality talent since the generations of 2005-07. In both 2005 and 2007 the u20 teams won the World Cup, with a lot of the current squad coming from those teams. In 2005 notable players included Lionel Messi, Sergio Aguero, Pablo Zabaleta, Lucas Biglia and Fernando Gago. Out of those 5 only 2 are only still playing for the national team at the time of writing, and since the others have retired, Argentina have struggled to replace them or find anyone better than them. Similarly in 2007, most of the players from this era are on the decline or will soon retire from the national team. This team includes players such as Sergio Romero, Angel Di Maria, Ever Banega and Alejandro Gomez. Most of the players here are in their early 30s and it should be expected that they will retire from international duty soon, more than likely after next years Copa America maybe even the World Cup in 2022. The problem Argentina have is that they produce decent players but none good enough to change the team into what it once was. The new generation of Argentina will likely be led by Giovanni Lo Celso of Real Betis, Lautaro Martinez of Inter Milan and Paulo Dybala of Juventus, however this is unlikely to spark any sort of new football dynasty in South America. If Argentina want to be successful they need to look at their neighbour in Uruguay. Oscar Tabarez has been able to create a system in Uruguay where all the youth teams play the same way as the senior team which also promotion to the senior team more likely, this has resulted in players such as Rodrigo Bentancur, Federico Valverde, Maxi Gomez and Marcelo Sarrachi all easily transition into the first team. Bentancur and Gomez even managed to play in the World Cup, with Gomez making 2 substitute appearances and Bentancur playing in all of Uruguay's games.
Argentina have also had the problem of being unable to hire a coach that can handle the team. The last manager to be able to do this and properly connect with the team was Alejandro Sabella. Ever since he left the role in 2014, Argentina have hired 3 managers with the most recent being Jorge Sampaoli who have all failed to bring any success to Argentina or deal with the team. This peaked during the 2018 World Cup where there were reports that he had lost the dressing room and that Messi was now choosing the team instead of him, which were of course denied. However, despite his inability to handle the Argentinian team he had been able to carry a Chile team to 1 Copa America win, while also laying the foundations for another in the 2016 Copa America win under Juan Antonio Pizzi. This Chile team arguably had egos to handle as well, in Alexis Sanchez, Arturo Vidal (who crashed his car during the 2015 Copa and needed disciplinary actions as he was also late for training), Gary Medel and Eduardo Vargas. Despite this, it seems to be that the AFA work on the idea of if Messi doesn't like the coach they will get rid of him. So far under current coach Lionel Scaloni, he has been able to handle the team through his time as manager and has currently not experienced any splits in the dressing room.
If Argentina want to get out of this rot they are currently in they need to be able to deal with the loss of Messi once he retires from international football, they also need to focus on the development of youth so they can create a new 'golden generation' which is like the previous one of 2005-7 but is young and ready to breath a new life into the team. Under Lionel Scaloni they have a promising, young manager who is in a good position to develop young players coming through as he would be able to work with them for a long time if he plays his cards right. Argentina are not going to achieve any major honours soon, but they should use the retirement of Messi when it happens and the ageing 'golden generation' to create a new dawn for Argentinian football. I would predict that the next competitions Argentina will be able to compete in will either be the 2026 World Cup or the 2024 or 2028 Copa Americas.
Links used: https://www.transfermarkt.co.uk/argentina/startseite/verein/3437
https://en.wikipedia.org/wiki/Argentina_national_under-20_football_team
https://en.wikipedia.org/wiki/2007_FIFA_U-20_World_Cup_squads#_Argentina
https://en.wikipedia.org/wiki/2005_FIFA_World_Youth_Championship_squads#_Argentina
https://www.forbes.com/sites/steveprice/2019/05/22/10-players-to-watch-at-the-2019-under-20-world-cup-in-poland/#690e1c2d10e8
Stats from One Football