Atalanta are a small team from Bergamo in the North of Italy. They were formed in 1907, and since then have not experienced a lot of success. Their last piece of silverware was in 2011, when they won Serie B and gained promotion to the top tier because of this. They have also not been able to win the Coppa Italia since 1963, where most recently they finished runners-up last season. However, Atalanta have caused a bit of a surprise in Italy as they have qualified for the UEFA Champions League for their first time ever.
This season, Atalanta managed to qualify for the Champions League due to them finishing 3rd in Serie A, in front of Inter Milan as well as AC Milan, however they did end up 10 points behind 2nd placed Napoli. The team sadly at the beginning of the season lost in the Europa League qualifying round on penalties to FC Copenhagen, so they were unable to show case their talents abroad, but this in a way proved to be a cloud with a silver lining as they were able to solely focus on the league and this proved. The team has several players who have performed this season under manager Gian Piero Gasperini. There goals came from mainly Duvan Zapata as he was able to score 23 and finished second in the scoring charts 3 goals behind Fabio Quagliarella, while also getting service from Alejandro (Papu) Gomez, who provided 11 assists, which was joint highest in Serie A with Dries Mertens. Josip Illicic also contributed with 12 goals and 7 assists.
Atalanta play a 3-4-1-2 with wing-backs. and used high pressure when not on the ball, while also using quick build up play and possession when on it. When not on the ball, Atalanta initiate a high press, with Zapata, Gomez and Illicic all pressing while the opposition try and build up play, this mainly occurs with the defence of the opposition. They try and force mistakes from their opposition and win the ball back as soon as they can. The wing backs also contribute, but this can make the defence vulnerable as it will leave their 3 man defence exposed at the back, which is where Marten De Roon is involved as he takes up a more defensive position to try and weaken the effect of a counter attack when Atalanta initiate their high press, while also allowing Remo Freleur to push forward more, this has resulted in him developing significantly since his days as a Middlesbrough player. This high pressure, however, can also result in high amounts of injuries as well as fatigue, and the team in the end struggled when it mattered, such as in the Coppa Italia final, similarly to how Liverpool played last season with the Gegen press.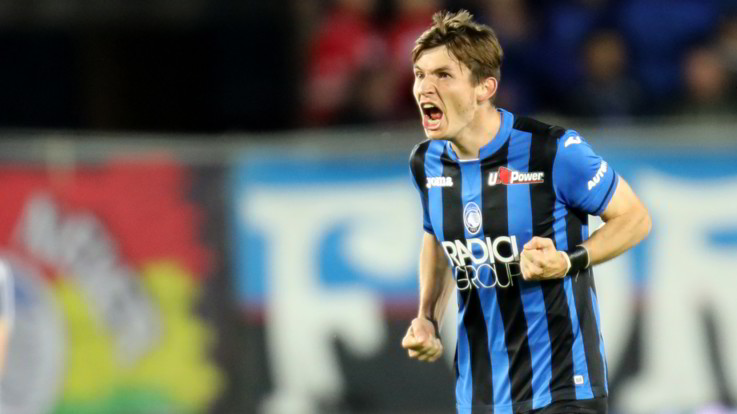 When attacking, Atalanta focused on overloading the box while also playing possession based football. They focus on getting the ball forward as quickly as possible, and this is done effectively with the use of Remo Freuler, who will drop back to receive the ball from the defence and then push forward either by running or passing the ball out. They are also able to play more route one football if needed. If they come under pressure due a press similar to theirs from the opposition, they are able to hit the ball up to either Zapata or Illicic who are both able to knock the ball down if necessary. I can see this Atalanta team staying together due to the age and lack of sell on value their players have. But, they may miss out on Duvan Zapata, who was on loan last season, this is because even though they have the chance to buy him for £7 million, there are rumours of Premier League clubs being interested in him, and due to this Sampdoria will most likely sell to the Premier League as they will make more money, as Atalanta don't have the financial backing to match any offer.
The success of Atalanta this season can be seen in their qualification for the Champions League, but they have also managed to get results against Inter Milan, Lazio and Napoli, as well as being able to hold Juventus to 2 draws. However, Atalanta have had a tendency to not being able to finish off chances, which can be seen in their 0-0 draw with against Empoli where goalkeeper Bartlomiej Dragowski had an outstanding game. They have also been a liability in defence when it comes to conceding goals, as seen in their 3-3 draws with AC Milan as well as Roma. If they are able to fix these problems then I believe they can possibly challenge for second in Serie A, as the gap between 2nd and Juventus is too greater one to close so quickly. The issues can also possibly cost them when it comes to the Champions League, which is also a crucial reason to why they must make these amendments. The story of Atalanta is only just beginning, and it is going to get even more exciting in the Champions League, as I believe they can possibly create a decent upset, such as reaching the Quarter Finals, if they get things right.
https://footballbh.net/2019/04/17/atalanta-empoli-serie-a-tactical-analysis-statistics/
https://www.thefalse9.com/2019/06/atalanta-formation-tactics-gasperini.html
https://www.transfermarkt.co.uk/jumplist/startseite/verein/800