Tuesday night, March 5th, 2019. Ajax's eleven walked out into the bright white Bernabeu floodlights. A few weeks prior, the iconic dutch side had played their first match in the Champions League knockouts in 13 years, where they fell 2-1 at home to the current title holders, serial european winners Real Madrid. However, this match was different and the cool, confident Spaniards found themselves conceding 4 goals from a scintillating side filled with young stars.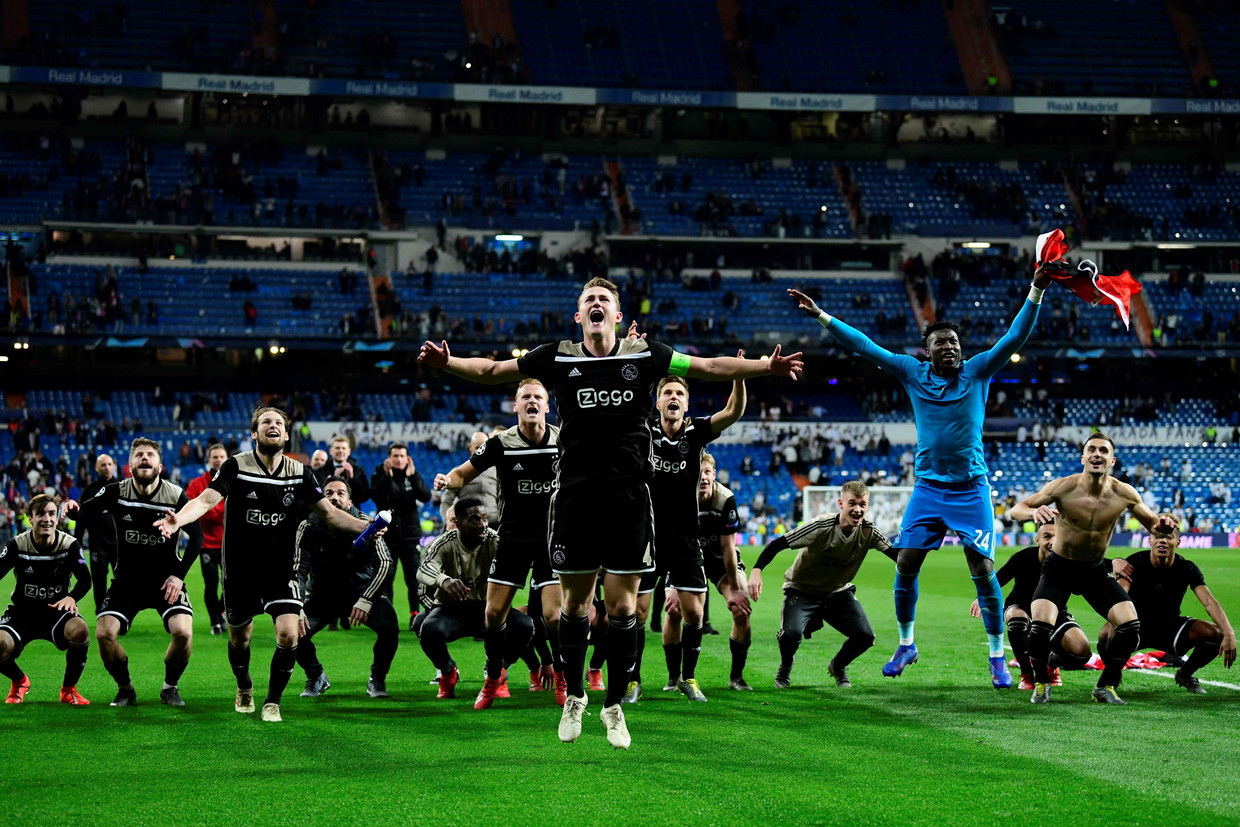 To understand how the second leg upset came to be, the previous match must be relived. While Ajax had lost, the team had played extremely well with coach Erik Ten Hag giving a performance of 'totaalvoetbal' reminiscent of the Rinus Michels and Johan Cruyff era of Ajax. With quick passing and fluid movement he found weaknesses in his rival's narrow, rigid defensive structure and forwards often broke into dangerous positions. However inefficiency in the box cost the Amsterdam side greatly while Real Madrid was lethal with impressively precise counterattacks through which they scored twice. As the final whistle blew, it seemed like the Kings of Europe would continue their reign.
It seemed near impossible for Ten Hag and his squad to overturn the unfavourable result, playing away against a team full of big names; but by half time Hakim Ziyech and David Neres had scored to put Ajax in a comfortable, qualified position. In the 62nd minute Dusan Tadic netted a gorgeous curler which helped the goal tally reflect his side's dominance on the pitch. While Asensio managed to fire one in for Real Madrid in a moment of defensive distraction from the visitors, Lasse Schone shortly after lined up a free kick from an impossible angle which buried the Spanish giants for good. Knocking out the team that had recently become the only side to have won the Champions League three consecutive times was an incredible feat and it put Ajax on headlines all over Europe. But how had the two matches given two drastically different results?
Firstly, football is largely dictated by tactics and the approaches of the two managers which ended up being of crucial importance. Real Madrid's newly appointed Santiago Solari had arrived too recently to get to know his team and develop his own style of play, so his side moved with little cohesion and direction. Attacks were mainly carried forward by individual displays of skill, while danger was often created through long balls and crosses, which Ajax's back four often faced in the Eredivisie, so good goalscoring opportunities were scarce. The truly crippling effects of Solari's weak direction however, were seen in the defence. There was an attempt to hold off their opposition with a narrow block at the back helped by a midfield exerting high pressure; but players often were out of position, pushed up at the wrong moment and struggled in coping with incursions down the flanks. In contrast Ten Hag ensured his team was more precisely guided, particularly in attack where his wingers would tuck inwards where they would join Tadic and Donny Van de Beek to numerically match Los Blancos' back line. The fullbacks would then be pushed forward to occupy the exposed wide areas. With quick passing, fluid rotations in positioning and flashes of pace, Ajax often found gaps in a defence that struggled to react.
In addition, attitude and psychology were further conducive in widening the gulf between the quality of football played by both teams. Real Madrid had a lineup similar to that of previous years, which mainly consisted of experienced veterans who had gotten used to winning titles, particularly in the Champions League. This, combined with the favourable position the first leg had put them in, may have led to a confident sense of security. The resultant lull in focus made their young, energetic and deterimined opponents even more dangerous. Ajax's eleven stepped on the pitch with a clear conviction that they could reach the quarter finals, and so they fought with an intensity that overwhelmed their more placid rivals. By the time the Spaniards reacted, it was too late. They calmness turned into despair and frustration, which culminated with Nacho getting himself sent off.
Finally, while football is a team sport, in this match individuals noticeably influeced the final score. It is hard to pick out standout performers from Ajax as everyone worked extremely well and played as a unit, but Frenkie de Jong had a truly stellar night. He did much more defending than he normally does, recovering the ball and stopping attacks regularly; on top of his excellent distrubution where he consistently played through the opposition midfield press to move possesion forwards. Real Madrid on the other hand, was more affected by the performance, or lack therof, of their players. Sergio Ramos was missing that night as he had picked up a suspension. Many of the problems suffered that night were worsened by the absence of the captain motivating his cohort and organising the back line. Furthermore, early in the first half the two wingers, Vinicius Jr. and Lucas Vazquez, fell injured and had to be substitued off; forcing Solari to play with a different plan. Whether a perfect Madrid team would have won the game isn't certain, but it is unlikely they would have lost by such a large margin.
That incredible game was more than enough to get Ajax to their first Champion's League quarter finals since 2003, where they came up against an imposing Juventus side led by Cristiano Ronaldo. Once again, the young Dutch side flashed their magic and knocked out yet another european giant and they proggressed to play Tottenham. Here their fairytale campaign would tragically end with a desperate second-half, comeback-completing hat trick from, out of all players, Lucas Moura. Come summer, many crucial pieces of Ten Hag's machine were taken, and with the absence of Matthijs de Ligt, de Jong and Schone, the team was unable to replicate their incredible run. To make matters worse, Zyiech will be leaving to Chelsea and Van de Beek is being courted by multiple teams, so it seems even more unlikely that Ajax could return to the heights reached in the 18/19 campaign. Despite this, the memory of that one magical night in Madrid will stay with everyone for years to come, until the next golden generation of players writes a new story.